| | |
| --- | --- |
| In celebration of Meatless Monday, today I am reviewing and sharing my experience with the vegan website Veggie Brothers. | |
Veggie Brothers is a company that has been delivering "chef prepared vegan meals" since 2005. Choose from appetizers, breakfast foods, sides, entrees, soups, and more available for sale. The website provides complete information for each item, including pictures, ingredients, and description of the products along with user-submitted reviews. The website also features a blog, health information, and much more.
I have sampled a number of products from this site and have been continually impressed. I believe all their products come vacuum-sealed in bags with preparation instructions, ingredient information, and nutritional information. Because the food items are vacuum-sealed they may be stored for a considerable amount of time in your freezer. This allows you to order in bulk and keep the food frozen for quite some time if you desire to do so. Vacuum-sealed packages from Veggie Brothers can be boiled because they do not use plastic that leaches chemicals. Meals can also be prepared via other methods, such as in the microwave or oven.
One of my favorite products from Veggie Brothers is their Hot & Spicy Soy Chicken Buffalo Wings. I've tried many different types of vegetarian and vegan wings, and these are some of my favorites. There is only one place that has them beat, and that is at Asylum, a restuarant/bar which I rarely visit because it's about an hour and a half away from my home in Washington, D.C. At their website, Veggie Brothers describes the wings as "Realistic soy chicken drumstick baked with our house buffalo sauce and spices. Hearty and delicious. Spicy." They are very accurate with their description. The wings are a good size and wonderful texture.
I have reviewed these wings on
Knoji
and share, "With the first bite I noticed a chewy skin-like texture on the outside of the wing and also a slightly chewy meat-like texture inside. The wings are a bit softer than I prefer, but the flavor is meaty, spicy (tangy with a little heat, but not overly spicy), and delicious. I can detect a very slight pepper and vinegar flavor coupled with sweetness, but it's just the right combination. They taste perfect to me. I had to remind myself that these were vegan a few times because the texture seems so real to me. If you are the type of person who doesn't like analog meat products that seem realistic, these are probably not for you!" These wings are certainly addictive!
I also very much enjoyed the breakfast ham, which is a very authentic texture as far as I can remember, and my boyfriend agrees. We both tried the ham and it was delicious. I simply let it thaw and then fried it in a pan with a small amount of non-stick spray. The taste is just right. It is not too salty and full of ham flavor the way I remember it.
The Soy Chicken Cacciatore (pictured below) was very delicious, but a bit too watery for my liking. Aside from that, the flavor was excellent. It is described on the site as "A vegan rendition of an Old World favorite. Realistic soy fibrin chicken in a scrumptious tomato herb sauce with red and green bell pepper and baby portabella mushrooms." I served it over a mix of brown rice and bulgur wheat. Delicious chunks of fake chicken and plenty of green and red peppers with mushrooms and onions is a very accurate description of this item. I could certainly taste the red and green peppers in the sauce, which I really enjoyed.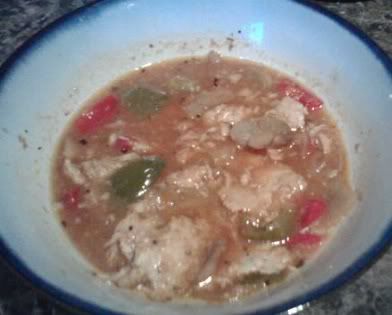 They literally have dozens of entrees from which to choose (such as Wellington Supreme, Vegan Beef Teriyaki, Salisbury Steak in Mushroom Gravy, Grilled Mahi Mahi Steak, burgers, and more) as well as a decent selection of appetizers, soups, sides, and breakfast foods.
I was pleasantly surprised with the initial customer service I received as well as the follow up interest regarding my satisfaction with their products. The owner of the site, Michael Balducci, is very attentive and considerate.
Veggie Brothers has a minimum order of $50 for food subtotal before taxes. This is to offset cooler packs and other handling charges that they may incur; the company does not charge extra for cooler packs and other special shipping requirements as others sites sometimes do. Items were shipped quickly and I received a tracking number so I knew where the package was throughout the delivery process and when it would be arriving.
They do have a rewards program where one earns approximately 1 point for each dollar spent. When 1000 points are accumulated you receive a $100 gift certificate for personal use or to give as a gift. With one small order I accumulated nearly 100 points. Veggie Brothers often runs specials on their products, coupons such as free shipping, and other discounts. Although the prices are a bit steep, the quality of the food is delicious and well worth paying.
Sources
Veggie Brothers website
personal experience and opinion
Veggie Brothers: Hot & Spicy Soy Chicken Buffalo Wings
Also find Veggie Brothers on Facebook.
** ** ** ** ** ** ** ** ** ** ** ** **
Exercise Update
for Monday, March 26, 2012:
* Warmed up with dynamic stretching, jumping jacks, and jump rope. (about 5 minutes)
* Worked arms with 3-pound hand weights (3 sets of about 12 reps each: chest flies, bicep curls, tricep curls, and a few other things for which I don't know the name!)
* Walked over half a mile on my treadmill
* Cooled down and stretched