I actually hear that many vegans have tried switching to natural deodorants or brands that are not tested on animals or containing animal ingredients and most have had horrible experiences. Many vegans confess to using conventional deodorants just because they don't want to smell sweaty and gross... I was the same: I tried vegan-friendly deodorants and was disappointed, so I gave up and switched back to a "traditional" deodorant. The crystal rock type things did nothing for me. The essential oil type stuff did very little, not enough. I tried about four different vegan brands and had failure after failure. That was actually a few years ago. Good news - just as vegan cheeses have improved greatly over the last few years, so have vegan deodorants!
These conventional deodorants that are also antiperspirants, have come under much scrutiny lately because of all the chemicals they contain and the aluminum as well. Not only that, but sweating is normal and healthy, so clogging up the sweat glands is very detrimental, but you can do your own research on that. I never knew about ARMPIT DETOX until I tried natural deodorants again a few months ago. Armpit detoxes sound funny/weird/gross, but they are necessary and healthy, so do some research on that and try it if you haven't. There are tons of blogs with tips, usually using bentonite clay and ACV (apple cider vinegar).
Now, the first natural deodorant I tried was from Lemongrass Spa. I was hesitant to buy it because it contains beeswax, which isn't vegan; but it's not tested on animals and I figured it was far better than the conventional products I had been using. I got the grapefruit lily scent and it smelled pretty good, but I still smelled sweaty after using this product. Also, I wasn't too found of feeling so sticky under my arms.
I tried Piper Wai and it actually works pretty good, almost as good as my favorite which I will fully review in a moment. The Piper Wai absorbs sweat fairly well (although with natural deodorants you WILL SWEAT as they are not antiperspirants and not clogging your sweat glands the way traditional products do). The scent of the Piper Wait is very earthy to me and a strong essential oil variety scent. I don't know how else to describe it. I got the bar to apply rather than the jar. It uses charcoal to absorb sweat so it does appear gray, but the company claims rubbing it in well will eliminate the gray color, which it basically did. It worked well enough that I would use it again, but I still wanted to find a product I liked more and I knew there were lots of natural deodorants on the market these days.
I checked out Amazon and found this one: Organic Island Deodorant. I scoured the reviews and decided to give it a try. I loved it! I used it for maybe a week then started getting a bit itchy under my arms and a few days later I noticed a very red rash. Uh oh! I contacted the company and they said it was probably from the baking soda in the product. I told them I already did an armpit detox and they said they still suspect the baking soda. They immediately sent me the sensitive formula to try without any cost to me since they really want their customers to be satisfied. I was a bit hesitant to use it, so I just laid off all products for a couple days. Once my rash was almost fully gone I did another underarm detox (which apparently some people must do quite a few to fully detox their pits), then gave it a try.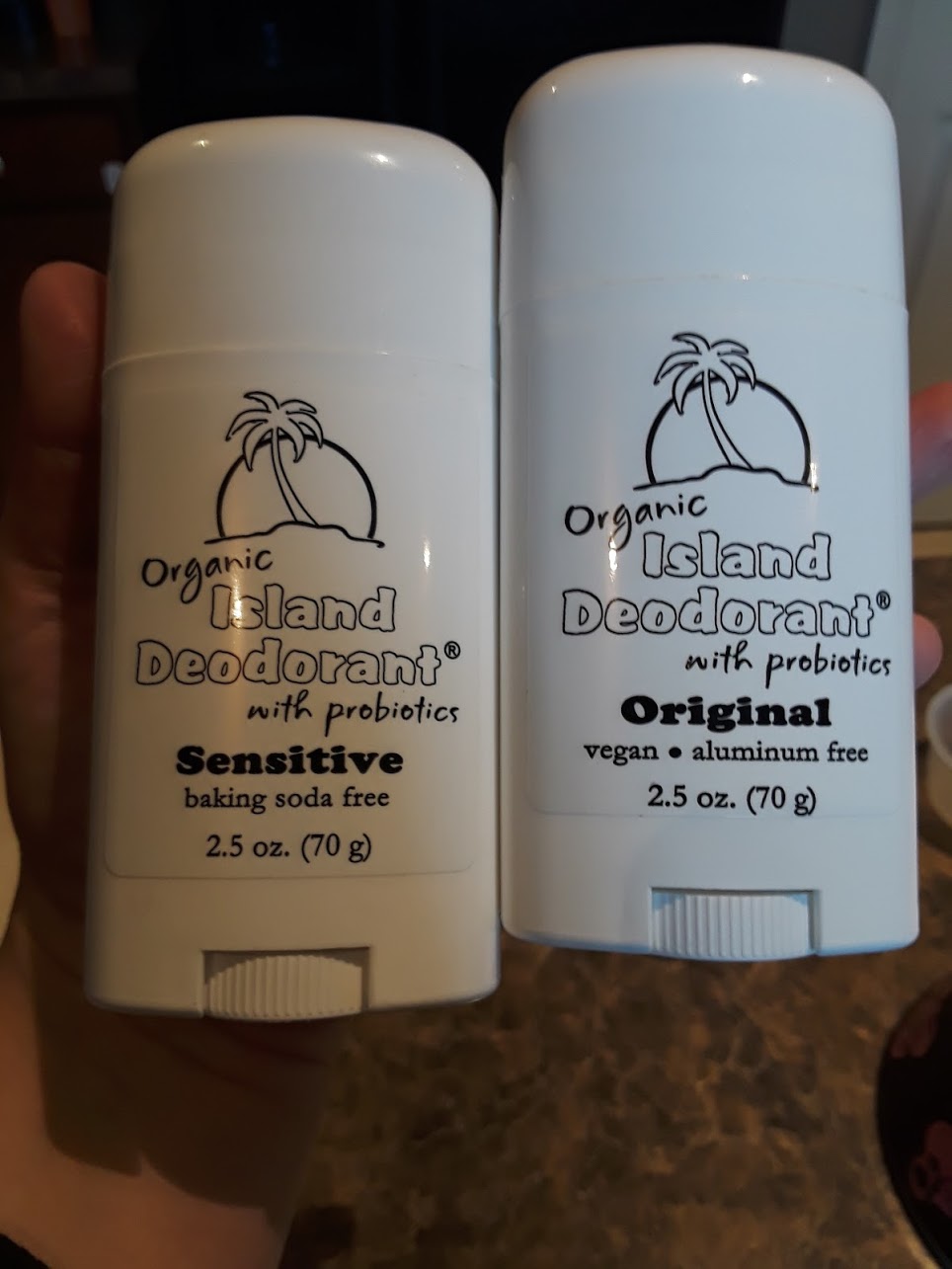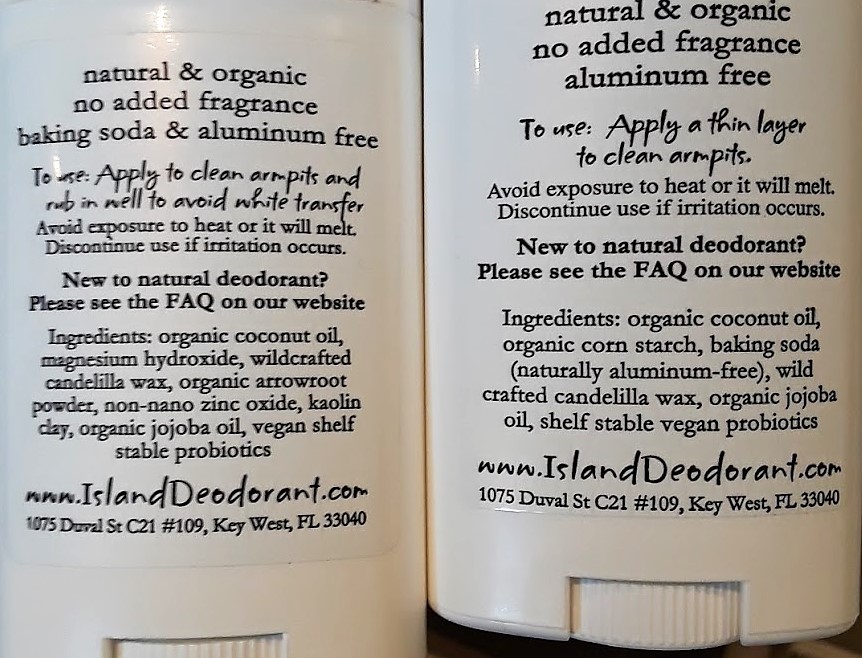 Sensitive (left) | Original (right)
Both versions of the product (the original and the sensitive) are unscented. They are both organic and made from natural oils, waxes, and vegan probiotics to help control odor and some of the wetness by absorption rather than clogging the glands. The original version is a bit harder consistency but can be heated very briefly to make application easier. The sensitive version is a bit soft and has a bit of a clay-like feel to me. It does work well, although not as good as the original version. I have detoxed my underarms a few more times and alternating between using the original when I need a little more better performance and the sensitive versions. I have not developed any more rashes even when I use the baking soda original version a few days in a row.
As expected I get some wetness, but there is no smell! I like that the product is unscented. Customer service has been excellent in my experience. The products are available directly on their website at www.IslandDeodorant.com and at Amazon. The price is fair and the product seems to last quite some time, even with daily use. I have had my two containers I alternate since the end of September (it's now a week into December) and still have over half of each left. Overall, so far this is my favorite deodorant, but I still need to try Primal Pit that I've heard so many people rave about!
If you've been searching for a great safer, natural deodorant that works and doesn't have that strong essential oils fragrance, give this one a try. I don't sell it or receive any incentive for sharing this with you in any way, by the way - this is just my honest review with no compensation whatsoever.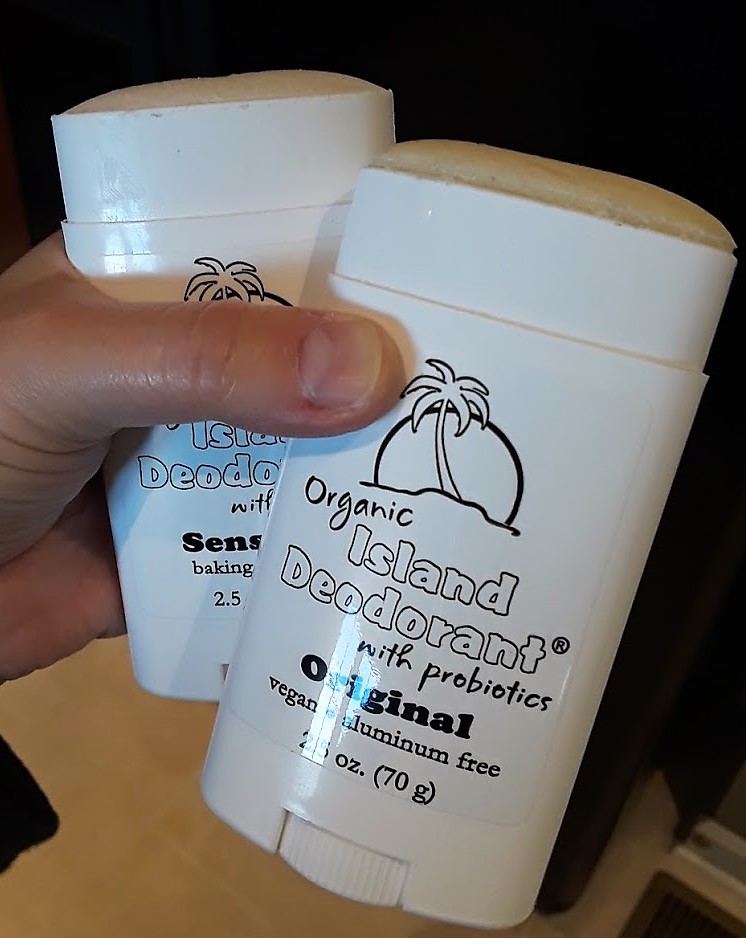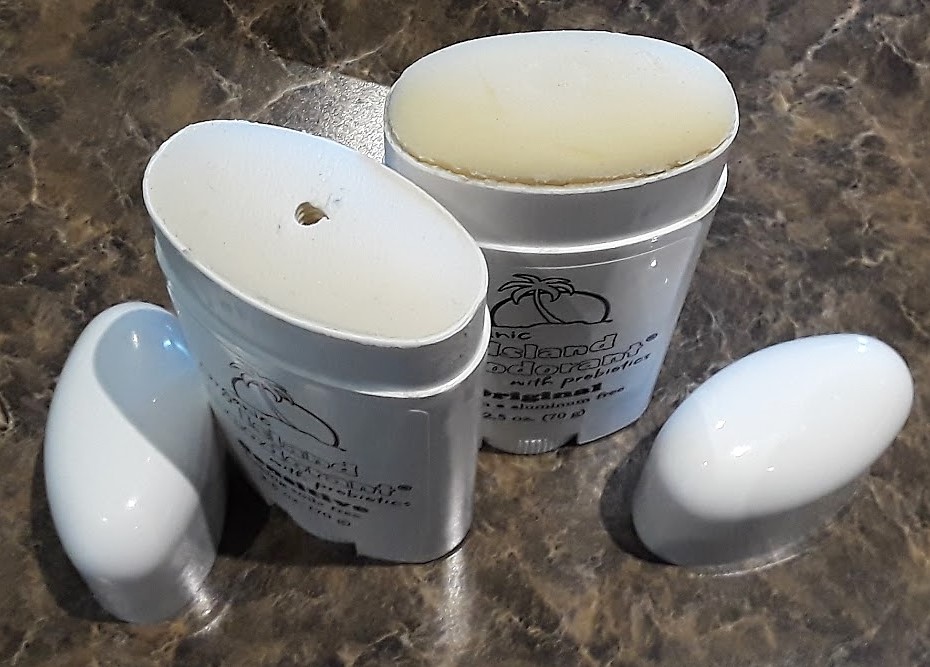 Please leave a comment to let me know how you came across my blog if you remember. On Google+ I shared "Natural Deodorant Review for Organic Island (with a few other mini reviews of other brands I've tried)". This blog was created using the following tags: sweat, natural, natural deodorant, deodorant, vegan, armpit detox, chemical, aluminum, organic, island deodorant, Lemongrass Spa, Piper Wai, review, wet, clay, acv, apple cider vinegar, essential oil, probiotics. THANKS FOR READING and have a great day!