According to the main website at the Humane League, the Baltimore VegFest is "an annual festival celebrating all aspects of living a plant based diet. This event will feature dozens of vegan food vendors, non profits, animal rights groups/organizations, live music, workshops, speakers and lots of freebies!" This year the event was held on Saturday, April 28th from 11 am to 3 pm.
From Martinsburg, West Virginia, where we live, it takes just over an hour and a half to drive to the UMBC Campus where the 2012 Baltimore VegFest was held. Free parking was available for the event, which was proudly presented by The Humane League and The UMBC Vegetarians.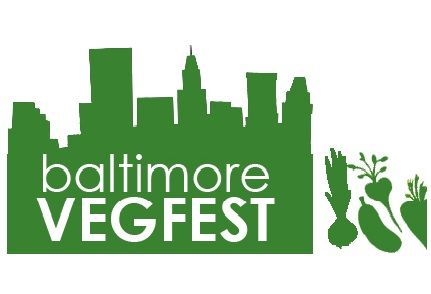 We arrived a bit late but it was still plenty of time to explore the dozens of booths set up, sample lots of tasty vegan and vegetarian foods, and gather pamphlets of information and tons of recipes and other resources.
We also made it in time to hear some of the speakers and to see the cooking demonstration by vegan chef and animal rights activist Elena Johnson. She made Glazed Vegan Sausage with seitan and Egg-free Salad (similar to egg salad) and passed out samples of each plus samples of her Vegan Tacos. She also passed out the recipes for everyone. She answered many questions. I had a brief discussion with her after the demonstration because I was wondering what I could do to keep my zucchini cakes together better. She suggested breading them before frying in a pan with a small amount of oil. I will have to try this tip! She was so sweet she even invited me to email her anytime with questions. Her email was included on her recipe sheet that she distributed.
We walked around and pet some of the dogs and cats that were available for adoption through BARCs (Baltimore Animal Rescue & Care). They were so precious!
Some of the featured speakers for the event were Erica Meier from Compassion over Killing (COK), who I'd hoped to hear but missed. I also missed Nathan Runkle from Mercy for Animals, but I did get to hear Ben Shaberman, a writer who likes to keep things on the side of humor, read exerpts from some of his writings.
My friend, Monica, and my boyfriend, Bryan, went with me to this event. I bought us each a raffle ticket and Bryan ended up winning a gift basket with a vegan candybar (Jokerz: caramel, peanuts, nougat, and chocolate), a 16 ounce jar of organic vegan peanut butter, a 16 ounce jar of vegan organic almond butter, a sample of Dream Wash Shower Smoothie Soap from LUSH Fresh Handmade Cosmetics, a Vegenaise spatula, and a coupon for free Vegenaise.
Lots of tasty food and lots of wonderful, like-minded people. What a great day! I look forward to next year's VegFest.
Sources
Humane League: Baltimore VegFest
Facebook: 2nd Annual Baltimore VegFest 2012
personal experience