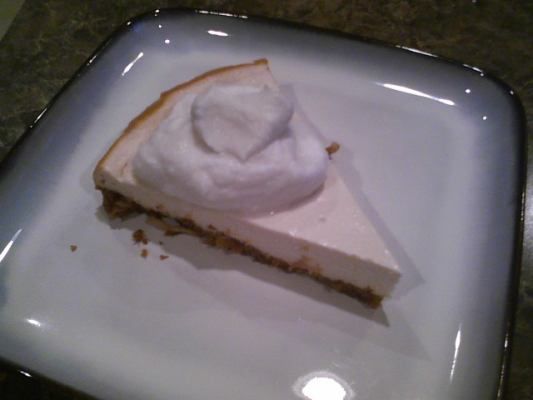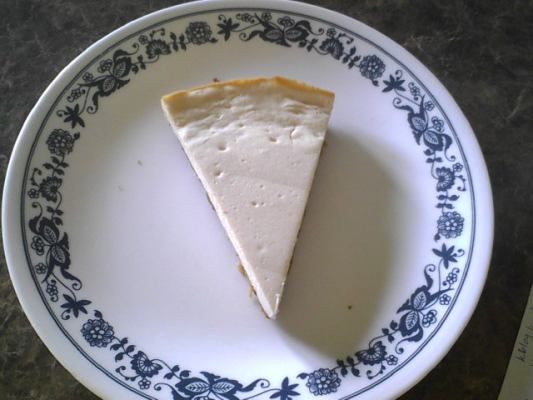 My first attempt at vegan cheesecake was a complete success! Cheesecake has always intimidated me. Even when I was a lacto-ovo vegetarian and still consumed cheese, I never tried making cheesecake. It seemed so daunting and scary!
I looked over a few recipes online for vegan cheesecake and decided on this one:
I Eat Trees: Perfect Vegan Cheesecake.
As displayed on the sourced website:
Classic Vegan Cheesecake
Ingredients:
16 cinnamon graham crackers, crushed
1/2 cup vegan butter
1 tablespoon agave nectar
1 tablespoon whole wheat flour
16 ounces vegan cream cheese
1/3 cup sugar
2 tablespoons Ener-G egg replacer whisked into 4 tablespoons water
2 tablespoons lemon juice
1 teaspoon vanilla extract
Preheat oven to 375 degrees. To make the crust, combine crushed graham crackers, vegan butter, agave nectar, and whole wheat flour in a medium bowl. Thoroughly combine ingredients by hand and press crust mixture into an 8.5 inch springform pan. Set aside.
To make the filling, add cream cheese, sugar, egg replacer mixture, lemon juice, and water to a blender and blend until just smooth. Pour filling over prepared crust. Bake for 20-25 minutes, or until the cheesecake is set in the pan. Allow cheesecake to cool at room temperature to 30-45 minutes. Cover pan and refrigerate overnight, or at least 8 to 10 hours. Slice, top with berries or sauce if desired.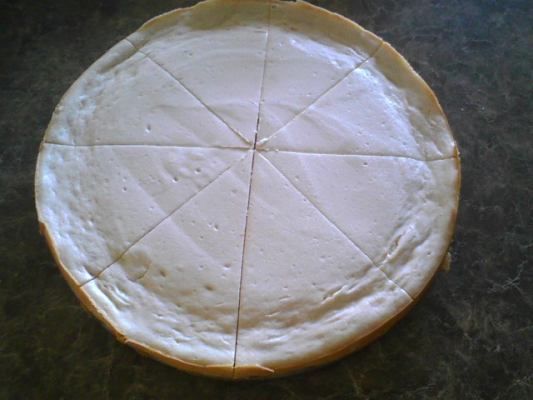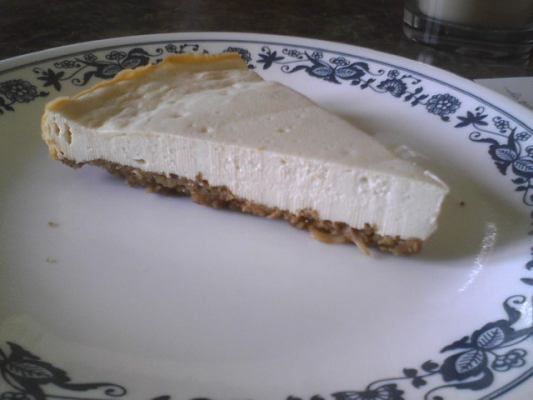 I made a few slight changes when I made the cheesecake. First of all, I couldn't find any cinnamon graham crackers without honey so I found some regular vegan graham crackers that I used for the crust and added some cinnamon and nutmeg. For the crust I also added about a tablespoon of ground flaxseed and about 1/4 cup coconut flakes.
For the cheesecake filling I followed the directions almost exactly, however, for the egg replacer I whisked some of it into almond milk rather than water. I also added about 1/4 teaspoon almond extract and only about 1/2 teaspoon of the vanilla.
This cheesecake was taste-tested by myself, of course, and I loved it! Also, my picky boyfriend and four co-workers sampled this treat and it was very well received by everyone.
Many were very shocked when I said I'd made a cheesecake without "real" cheese, since they know I am vegan, and were a bit iffy about how it might taste. I think everyone was pleasantly surprised. Someone from another office actually contacted me and told me they heard it was good from a mutual co-worker, which made my day!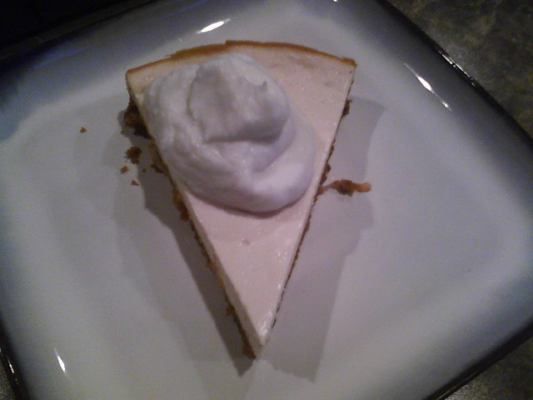 To top it off, I decided to try the coconut cream whipped cream I've read so much about. I used a chilled can of full fat coconut milk and scooped the top white part out and beat that with a few tablespoons of powdered sugar. It turned out white, fluffy, creamy and delicious! It's a great way to make vegan whipped topping and wasn't too difficult, either, so I was incredibly happy.
It was very tasty and topped the cheesecake with that extra something special. The cheesecake was phenomenal regardless of whether whipped topping is used or not.
Next time I may use a bit more graham crackers and flaxseed in the crust and I may increase the amount of Tofutti vegan cream cheese I use as it was not quite as thick as I prefer, but the taste was flawless. I may also try a gluten-free recipe so my good friend and neighbor can try it. I plan to experiment with ground almonds and different types of gluten-free flours for the crust.
Thanks for the recipe!